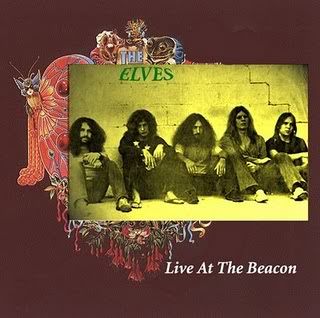 The Elves!
fue una banda fundada en 1967 por Ronnie James Dio(El segundo Vocalista de Black Sabbath tras la salida de el siempre grande Ozzy Osbourne), conformada por el tecladista Doug Thaler, baterista Gary Driscoll y los guitarristas Nick Pantas y David Feinstein quien era primo de Dio, Su nombre original fue The Electric Elves, despues lo redujeron solo a The Elves y, por último, a Elf, denominación definitiva que se adoptó en 1970. El grupo se separó en 1975 habiendo grabado tres álbumes de estudio. Si alguna vez se preguntaron acerca de por qué el nombre de Elf o The Elves (plural) aquí la respuesta, Ronnie James Dio con una altura de 1.60 mts era el integrante más alto de la banda, eso los convertía automaticamente a todos en unos auténticos Elfos. Unos de los instrumentos que más admiraba y tocaba Ronnie era la trompeta y el bajo, en los principios de su carrera musical con solo 16 años de edad ya lo hacía en la banda Ronnie and the Redcaps (1958).
Volviendo a The Elves este disco Live at the beacon es una sesión grabada en vivo en 1971 de 7 canciones con un sonido de rock, blues, progre, donde incluyeron una versión de Aqualung originalmente de Jethro Tull.
Tracklist:
1.The Scramblers
2.Driftin
3.Aqualung***
4.36 Year Old Lady
5.Mountain Venus
6.Simple Sister
7.The Rape Of Andre Lucia
Aqui te lo bajas: http://www.megaupload.com/?d=AGYABWUV
Pass: http://elcircodeltambor.blogspot.com/
***Para bajar el Track Aqualung(Cover Jethro Tull) No incluido en el enlace anterior! copia y pega el enlace de abajo:
http://www.megaupload.com/?d=8BGQ8SA9
AGRADECER NO CUESTA NADA Y COMENTAR ES AGRADECER!