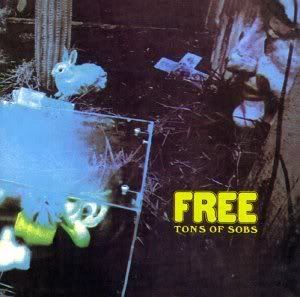 Album debut de la banda Blues-rockera Free!
resumo mis reseñas y comentarios diciendoles
EL MEJOR ALBUM DE FREE DE PIES A CABEZA!
RIFFS IMPRESIONANTES,LA TREMENDA GUITARRA DE PAUL KOSSOF CON SOLOS IMPRESIONANTES!
CON LA EXCELENTE VOZ DE PAUL RODGERS ES UN DISCO IMPRESIONANTE DESDE LA PRIMERA HASTA LA ULTIMA CANCION SI ERES AMANTE DEL BUEN BLUES ROCK ESTE SERA COMO UN ORGASMO REALMENTE EXCELENTE E IMPRESIONANTE CHINGONSISIMO!
CON TAN SOLO 10 PIESAS MUSICALES TE DARAS CUENTA QUE TAN PESADO Y FUERTE ES "FREE"
PERDON POR REPETIR TANTAS VECES QUE ES IMPRESIONANTE ESCUCHALO Y SABRAS DE LO QUE HABLO!
ENJOY!
Tracklist:
1. Over The Green Hills (part 1)
2. Worry
3. Walk In My Shadow
4. Wild Indian Woman
5. Goin' Down Slow
6. I'm A Mover
7. Hunter
8. Moonshine
9. Sweet Tooth
10. Over The Green Hills (part 2)
Bonus Track´s
11. I'm A Mover (BBC session/bonus track)
12. Waitin' On You (BBC session/bonus track)
13. Guy Steven's Blues (blues jam/bonus track)
14. Moonshine (alternative vocal version/bonus track)
15. Sweet Tooth (early take and alternative lyrics/bonus track)
16. Visions Of Hell (unreleased mix/bonus track)
17. Woman By The Sea (alternative version/bonus track)
18. Over The Green Hills (BBC session/bonus track)
Aqui te lo Bajas---> https://rs471dt.rapidshare.com/#!download|471l32|156648990|Free_-_Tons_Of_Sobs__1968_.rar|140817|R~EB881075D6A53190A33BB28004995B27
AGRADECER NO CUESTA NADA Y COMENTAR ES AGRADECER!!!!