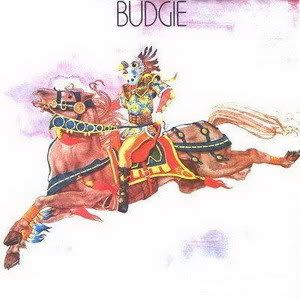 Primer album de esta bandota del pais de Gales...Budgie!
Fue lanzado en junio de 1971 a través de MCA Records,y aunque no tuvo la aceptacion que merecia y fue un album un tanto infravalorado,no seria hasta su segundo LP cuando tendria la aceptacion que merecia,son ampliamente considerada como una de las primeras bandas de heavy metal,aunque yo la veo como una bandota hardrockera con tintes muy blueseros,almenos eso opino yo.
Se formo originalmente en el año de 1967 bajo el nombre de Hills Contemporary Grass.
Después de realizar conciertos diversos en 1968 , la banda cambió su nombre a Budgie el año siguiente y grabaron su primer demo.En ese mismo año volvieron a cambiar su nombre a Six Ton Budgie,Shelly Burke ha dicho que el nombre del grupo vino del hecho de que él, "le encantaba la idea de tocar ruidoso, rock pesado, pero llamar a nosotros mismos después de algo diametralmente opuesto a algo",y seria hasta 1969 que la banda cambiara a su nombre fijo...Budgie
Y aqui les dejo su primer material ojala y les guste.
En mis gustos la mejor cancion es:Nude Disintegrating Parachutist Woman,en verdad es recomendable este disco integrado por John Burke Shelley (bajo y voz), Raymond Phillips (Batería), Tony Bourge (guitarra) y Brian Goddard (guitarra).
Vas Bajatelo!
Tracklist:
1-"Guts" – 4:21
2-"Everything in My Heart" – 0:52
3-"The Author" – 6:28
4-"Nude Disintegrating Parachutist Woman" – 8:41
5-"Rape of the Locks" – 6:13
6-"All Night Petrol" – 5:57
7-"You and I" – 1:41
8-"Homicidal Suicidal" – 6:41
Aqui te lo Bajas---> http://www.mediafire.com/?bhkiyko2fk1
AGRADECER NO CUESTA NADA Y COMENTAR ES AGRADECER!