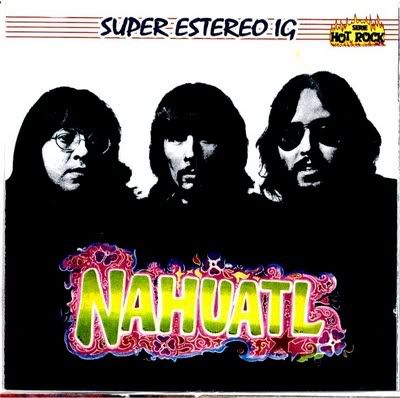 Gran banda Mexicana,Nahuatl
Provenientes de la banda participe del Festival de Rock y Ruedas,Peace and Love dan vida a Náhuatl,mas adelante tambien subire musica de Peace and Love,
Se Formaron en el mes de Agosto de 1972,Estos Excelentes 3 musicos mexicanos, se caraterizan por su fuerte entidad nacionalista que se ve reflejada en su nombre y en las letras de sus rolas que hablan de amor,ecología,Nacionalismo y abuso de drogas,No por nada en la anterior banda sacaron una maravilloza cancion llamada Marihuana que fue super coreada en Avandaro
Este power trio tienen una caracteristica que los hace un poco distintos al comun de las bandas mexicanas de la epoca, casi todos sus temas son en castellano,En este su disco homonimo se muestra un album de rock pesado a la altura de lo mejor que se hacía en la época en la angloesfera,dotados de un estilo propio que va de la psicodelia de los años 60's al rock pesado de principio de los 70's son considerados junto con otros grupos de rock mexicano como verdaderos maestros del rock duro.
En 1974 participan en el Festival OTI nacional y en 1977 el grupo se desintegra, partiendo Ramón Torres a Monterrey donde forma la Magic Company mientras que Ricardo Ochoa junto con Kenny dan vida a Kenny and the Electrics en 1979.
Algunas canciones como Coca Cola nunca fueron publicadas por haberlas prohibido por censura.
Grandiosa banda mexicana algo underground en el mundo,y, aunque no lo creas tambien en mexico incluso en alemania y otros paises con gente coleccionadora de viniles underground de todo el mundo,ponen a este material como articulo de coleccion invaluable junto a otros materiales mexicanos que son muy buenos.A la altura de varios grupos verdaderamente buenos y muy underground.
Viva Mexico Ca.....s!
jaja lo siento me llego lo mexicano!
Ojala que te guste el rock antaño,osea el verdadero rock y no estes fuera de la onda si no seria un desperdicio pues no te va a gustar este material ni los de este blog,no confundas lo pop o lo indie con la buena musica!
Aqui te lo bajas---> http://www.megaupload.com/?d=34BCPMC3
password: http://elcircodeltambor.blogspot.com/
AGRADECER NO CUESTA NADA Y COMENTAR ES AGRADECER!
*(No estan comentando,que mal :/)