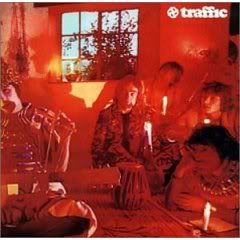 Album debut de Traffic: Mr Fantasy.
Traffic fue un grupo de rock psicodelico, procedente de Birmingham, Inglaterra. El grupo se formó en la década de los 60, y estuvo liderado por Steve Winwood, con Jim Capaldi, Chris Wood, y Dave Mason.
Un album lleno de psicodelia poderosa un tanto pacheca,este ultimo termino se percive a la perfeccion el la cancion "Giving to You" que es la mejor del disco segun mi punto de vista.
Album muy agradable con psicodelia muy al estilo de los britanicos.
Tracklist:
1- Heaven Is in Your Mind" 4:16
2- "Berkshire Poppies" 2:55
3- "House for Everyone" 2:05
4- "No Face, No Name, No Number" 3:35
5- "Dear Mr. Fantasy" 5:44
6- "Dealer" 3:34
7- "Utterly Simple" 3:16
8- "Coloured Rain" 2:43
9- "Hope I Never Find Me There" 2:12
10- "Giving to You" 4:20
+ Extra Tracks!
Aqui te lo bajas---> http://www.megaupload.com/?d=L9ZQYYGE
password: http://elcircodeltambor.blogspot.com/
AGRADECER NO CUESTA NADA Y COMENTAR ES AGRADECER!