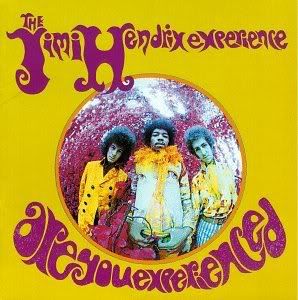 Album debut de The Jimi Hendrix Experience,que fue lanzado en 1967. Este álbum estableció a Hendrix como uno de los artistas de rock más importantes de su época, gracias a su innovadora técnica y uso de feedback. Es frecuentemente considerado uno de los mejores y más importantes álbumes en la historia del rock. En el año 2003, la prestigiosa revista Rolling Stone situó este álbum en el número 15 de su lista Los 500 mejores álbumes de todos los tiempos,pero fuera de eso pues no tengo nada mas que decir,cualquiera sabe la magnitud de este vato(QEPD),no soy tan fan pero debo admitir qe me gustan varias rolitas de ellos,aunque todas las miradas y pensamientos siempre iban hacia hendrix,en fin lastima que murio pues si me quedo esa gran duda de como sonaria si se hubiese unido a Emerson Lake & Palmer(HELP)en fin mi favorita de este disco es manic depression vas man!
Tracklist:
1. Purple Haze
2. Manic Depression
3. Hey Joe
4. Love Or Confusion
5. May This Be Love
6. I Don't Live Today
7. The Wind Cries Mary
8. Fire
9. Third Stone From The Sun
10. Foxey Lady
11. Are You Experienced?
12. Stone Free
13. 51st Anniversary
14. Highway Chile
15. Can You See Me
16. Remember
17. Red House
Aqui te lo Bajas--> http://rapidshare.de/files/26756145/Are_You_Experienced.zip
AGRADECER NO CUESTA NADA Y COMENTAR ES AGRADECER :@.