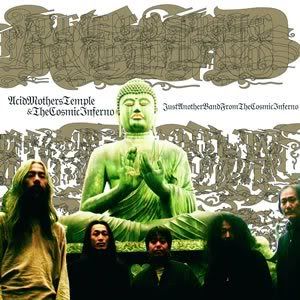 Vamos directamente a Japon,Estos veteranos que ven son los Acid Mothers Temple,es una banda japonesa de rock psicodélico y rock espacial que fue fundada en 1995. La banda ha tenido varios cambios de miembros pero principalmente es liderada por el guitarrista Kawabata Makoto. Su sonido se caracteriza por largas piezas que incorporan largos pasajes improvisados y dinámicas que puedan pasar desde una melodía acid folk, secciones de rock ácido con guitarras fuertes y sintetizadores reminicentes de Jimi Hendrix, Frank Zappa y Gong o pasajes de rock espacial.
Se ha caracterizado por sus referencias en los títulos de sus canciones a sus influencias así como sus múltiples encarnaciones con nombres como Acid Mothers Temple & the Melting Paraíso U.F.O., Acid Mothers Temple & the Cosmic Inferno, o Acid Mothers Temple & the Incredible Strange Band. En algunas ocasiones colaboró con la banda psicodélica de origen en fines de los sesenta británica Gong y esta colaboración se la llamo Acid Mothers Gong. También es notorio su prolifica actividad que se manifiesta en una importante discografía y conciertos en todo el mundo.
En este discazo solamente cuenta con 2 canciones muy,muy viajadotas con solos de guitarra bien locos y sintetizadores muy viajadotes,si te late alguna droga,lo vas a disfrutar al maximo(supongo),cuando conoci a la banda pense que era una bandota setentera bien viajada y mas por que ya se ven grandes sus integrantes supuse que desde los setentas aun seguian tocando pero no fue asi,pero no le piden nada a unos jovenazos de hoy en dia,pues tienen una enerhia bien loca,como ya antes habia mencionado ivamos a postear bandas nuevas con sonidos locochones y aqui esta la primera que disfruten estas rolotas,si no te laten las rolas largas ni te metas...lo tuyo es mas de este mundo!
1 Trigger in Trigger Out (20:17)
2 They're Coming from the Cosmic Inferno (43:55)
Aqui te lo Bajas---> http://www.megaupload.com/?d=8LX19XTX
AGRADECER NO CUESTA NADA Y COMENTAR ES AGRADECER!